Palo Verde High School
Class Of 1968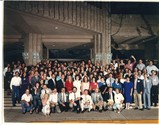 ANNOUNCEMENTS
•

New Facebook page established as another connection site for our 50th Reunion! Link information to this site for friends who have not found our website as yet!

The Group name is PV Titans 1968, here is a link to the group:

•

HELLO FRIENDS!

Here is an update on our reunion plans:

Registration is now available by clicking the 50 Year Reunion link on the left hand side of the screen.

Dates: September 28 - 29, 2018

Location: Skyline Country Club

Friday Night Reception and Mixer

Saturday Night Dinner, Music, and Dancing

Other events/activities TBD STAY TUNED!!

All updates will be posted on this site.

THANKS

•

A Note from: CHARLIE TITAN '68

Charlie Made This Comment Earlier This Year....DID YOU KNOW: IF WE WERE BORN IN 1950 AND GRADUATED IN 1968 AND NOW IN 2018 WE ARE GOING TO CELEBRATE OUR 50 YEAR CLASS REUNION, WE WILL BE 68 YEARS YOUNG. IMAGINE THAT!!!