Palo Verde High School
Class Of 1968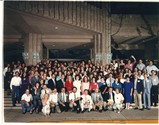 What's New Hi, Ginny! I hope you are doing well and that you had a fantastic birthday! Happy birthday. Hope YOUR DAY is terrific.

Palo Verde High School Class Of 1968
A new announcement has been added to the homepage:
PV Titans 1968 Facebook Page -
New Facebook page established as another More…connection site for our 50th Reunion! Link information to this site for friends who have not found our website as yet!
The Group name is PV Titans 1968, This is a link to the group: Hello Friends, I just heard from Rollah Aston. He has videos of his original songs on You Tube. Google You Tube and Rollah Aston to hear them I'm saddened, shocked actually, to read of Mark's death. I remember his energy, leadership, charisma, and his great smile. I will continue to remembeer him that way. I feel fortunate to have known him I especially enjoyed how Mark and Clark would play off of each other and how funny they were together. Mark was one of the best of us, of our graduating class. My deepest sympathies go out to Clark and all of Mark's family.