Palo Verde High School
Class Of 1968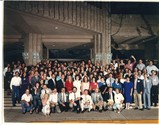 40-Year Reunion
Friday Night
, August 8, 2008
Casual Mixer
Westin La Paloma-Cottonwood Room
3800 E. Sunrise
7:00 p.m. – 11:00 p.m.
Casual Attire
Nacho Bar
Cash (no host) Bar
Saturday Night, August 9, 2008
Reunion
Celebration
Westin La Paloma-Murphy Ballroom
3800 E. Sunrise Dr.
6:00 p.m. - 12:00 Midnight
Registration - 6:00 p.m. Dinner - 7:00 p.m.
Resort Casual Attire
Cash (no host) Bar
Music by : Chuck Wagon & the Wheels
PHOTOGRAPHY
A photographer will be on site to take various group and candid photos Saturday night.
4X6 pictures are $5.00 each and will be printed on site.
HOTEL INFORMATION/FAMILY DAY
Special room rates are available at Westin La Paloma. Limited availability.$139.00 single/double occupancy-plus resort service fee and tax if reserved by July 8, 2008. Be sure to mention Palo Verde 1968-40 year reunion. Call (520) 742-6000 or (800) WESTIN 1.
REUNION
MEMORY BOOK
One memory book will be provided to each paying Saturday night alumni attendee. This softbound book is printed in black and white. It will contain biographical information, and various photos provided by your alumni. Not able to attend? You may order a memory book. Refer to the bottom of the registration page.
REGISTRATION INFORMATION
Full payment due July 7, 2008
Reunion costs include alumni location expenses, printing and postage for mailings, Friday location and appetizers, Saturday location and dinner, Saturday entertainment, supplies, decorations, and Memory Book for Saturday attendees.
Registration is easy!
( You may call us at (520) 407-8300 or toll-free at (877) 498-4900 and have your Visa/MasterCard ready.
Ø Tickets will not be mailed. Your names will appear on a guest list at the registration table of each event.
Ø Walk-ins and late registrations are accepted; however, space is limited. Visa/MC & cash for walk-ins (Sorry, no checks.) No discounts for late admissions.
Ø No refunds but tickets are transferable.
Ø If you cannot attend, consider sending your biographical information so it may be included in the Memory Book.
Ø Reunion Memory Books may be ordered even if you don't attend. Books will be mailed immediately following the reunion. Please add $5.00 if book is to be shipped outside the Continental U.S.
Southwest Reunion Planners P.O. Box 69357 Oro Valley, AZ 85737
Phone: (520) 407-8300 Toll-Free: (877) 498-4900 www.swreunions.com
E-mail: SWREUNIONS@msn.com
Price PER PERSON phoned or postmarked on/before July 7:
____@ $30.00 Friday Night Only
____@ $110.00 Saturday Night Dinner* & Dancing
____@ $130.00 Reunion Weekend
Price PER PERSON phoned or postmarked after July 7:
____@ $35.00 Friday Night Only
____@ $115.00 Saturday Night Dinner* & Dancing
____@ $140.00 Reunion Weekend