Palo Verde High School
Class Of 1968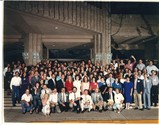 Dan L Johnson
Profile Updated:
November 26, 2017
Yes! Attending Reunion
| | |
| --- | --- |
| Residing In: | Tombstone, AZ USA |
| | |
| --- | --- |
| Occupation: | Retired from the Tombstone Unified School District |
| | |
| --- | --- |
| Children: | Brock, born 1980.......As of April 8, 2011 Brock was married and I was his Best Man in Hudson, New York. More… |
| | |
| --- | --- |
| Military Service: | US Navy April 1, 1969 to January 5, 1973 |
Dan L Johnson
added a photo to profile gallery. New comment added.
Posted on: Apr 27, 2017 at 5:04 PM
Welcome Shirley!!! Now You Will Be In Touch With Your Classmates When They Also Get Onto Our Class Website...... Good To See You Now With Us For Events, Happenings and Our Class Reunion's..... GO TITAN'S!!! Alias "Charlie Titan" '68.
I Too Steve Remember Marla From Corbett, Naylor and Palo Verde.... She Was Also From Our Neighborhood Too. She Had Been To Our Class Reunion's and It Was Good to See Her and Other Classmates From the Old Neighborhood..... I Personally Didn't Know Her That Well, But Yes We All Probably Talked To Each Other From Our Classes and Lunch Time, Recess....etc. From Our Neighborhood For Sure We Did Know Each Other in Ways..... How Could We Not Know Who We Were From Out Neighborhood???..... Marla Will Be Missed....
Posted on: Jun 12, 2016 at 2:03 AM
Steve, Welcome Shipmate to Our Class Website...... Really Good to See You Come Aboard..... You Will Be Able to See the Coming Events that May Happen and You Will Get the Full Information to Our Coming Class Reunion For 2018. But We Have to Let 2016 Pass By Before Our Committee Get Together For Our 50 Year Class Reunion Next Year.

Also I See that You Were in the Navy...... It Would Be Great Talk About the Our Sea Going Days...... Hope to See More On Your Profile. I Was in the Navy Also From April 1, 1969 to January 5th, 1973...... Got My Draft Notice As I Was in San Diego.... In the Navy. Got Out 3 Months Early for Pima College. Almost 4 Years of Good Times With My Shipmates..... I'll Tell You More Later.... Let's Do Connect....
Mike......Good to See You on Our Class Website.....We've Known Each Other Since Corbett Elementary School on 29th Street.....The Old Neighborhood.....All the Way to Graduation at PV......Then to the World. I have Wondered about You in the Past Years....I Don't think You I have Seen You at the Reunions....I Try to Catch everyone that I know for Our Old Neighborhood.....Like to Connect with You Soon.....I Live in Tombstone, Arizona....My E-mail is: danpv68tombstone@hotmail.com