Palo Verde High School
Class Of 1968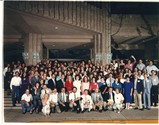 Susan (Suzi) Kressler/Davis Kressler
Profile Updated:
August 31, 2018 | | |
| --- | --- |
| Residing In: | Tucson, AZ USA |
| | |
| --- | --- |
| Occupation: | Retired from what I used to do. New ventures now. |
Children:
Sheila - 40
Kelly - 30
Harrison - 32
Grandchildren
Charlotte - 13
Cammeron 9
Davis More…
Yes! Attending Reunion Posted on: Sep 05, 2018 at 9:37 AM
Bob! We can't find you!
Are you coming to the reunion? Sure hope so, inquiring minds want to know! Suzi Posted on: Aug 30, 2018 at 1:38 PM
I'm supposed to put something here because if I don't I'm being told It won't send.
Technology. Love it when it works. Hate it when it doesn't!
Now my message is a few interactions below. Whatever. Sounds to me that you remember a whole lot more about school than I do!
I want to buy you a beer or 4 (whatever it takes).. after you finish playing. You in?
Besides, for as long as we've known each other, I want to catch up. All I know is that you have chickens!
Do you remember this? You & I were transferred to this, what we called a God Awful place in the same summer. OK it grew on us but still. No trees to climb, no rivers to swim in, no water at all except the base pool and hoses! Your Dad came here for the same reasons my Dad did. I didn't realize that until later. Just want to hang out with you for a bit... if our class has worn you & your band players out, I'll understand. Hi Denise,
So glad to see you're coming on Sat. It's going to be a great party in a beautiful place. Thankfully Green Valley is a drive not a flight for you! : )
And thankfully we will have name tags with pictures of our faces on it! 50 yrs. later, the memories are still clear but some of the faces aren't. Mine sure isn't!
Suzi Davis Kressler
You win the prize for best profile update! Thanks for taking the time to let us see the story of your life, with great photos too! Posted on: Jul 09, 2018 at 4:33 AM
You and Kris are coming Mark, Yes? Posted on: Jul 09, 2017 at 4:33 AM