Palo Verde High School
Class Of 1968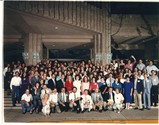 Bill Strodtbeck
Profile Updated:
August 14, 2018 | | |
| --- | --- |
| Residing In: | Sugar Land, TX USA |
| | |
| --- | --- |
| Occupation: | Retired from Shell Oil Company - 24 years |
| | |
| --- | --- |
| Children: | Eric born 1980, Kurt born 1982 |
| | |
| --- | --- |
| Military Service: | United States Marine Corp 69-75 |
Yes! Attending Reunion Really sorry to hear this. Darrel was one of our crew, walking to PV every morning. Emerlings, Moose Kramer, Harrels, Frank Cole, Bob Shock?....Man the years have rushed by. Darrel lived up the road from the trailer park i lived in after i got married. We used to get together from time to time. Hard times then He sold me his rifle (muzzle loader) and was really getting into reloading back then Had his baby with him ...I think he might have worked with the county back then. Animal control. I had lost touch...and was looking forward to seeing him.. RIP Darrel.
That makes Frank, Darrel, Moose....gone. But not forgotten. Really sorry I am not going to see Frank. He was a good un. Life is nothing like we expected when we were in high school. simpler time....school, sports, weekends, pranks. I will lift a glass to franks memory....i know other classmates will too. posted by moose kramers bro in law. rest in peace guys. John Kramer (aka the Moose)...my brother in law. My friend. Another human being trying to find his way in life like the rest of us.
When I got out of the Marine Corp in 1971 I met John at a halloween party and through him met my wife Anne who was his step sister. 40 years later I am still married to her. Would this have occured if not for John and his friendship. Probably not. For this alone I am thankful to him.
New to Tucson in 1964 and going to school at the Hell hole called Fickett jr high (new kid and all that) John Kramer and Pat Skiles basically helped me to survive. Through them I met others who became the gang who walked to Palo Verde High as a group every morning.. Life was good. That is a whole other story.
John was an absolutely amazing mechanic, electronics engineer, computer whiz, GUNSMITH, knifemaker (I still have one with a horn handle) incredible. Hunting trips with john. We decided it was best not to shoot dove over water unless you had a good dog with you. Ha Ha. John once made a dune buggy with a gas tank made our of an old beer keg. It was awesome. John was a good guy. He will always be a good guy in my heart and soul and I miss him. In later years he was estranged from the rest of the family...who knows the details. It does not really matter anymore. Like Frank posted....there are details about Johns family that even I did not know till now. He was a hurting man. Anyway....Johns brother Stan (and his wife Karen) are still in Rollah Mo.. and Anne and I are still in Sugar Land texas and truly are sorry that John is gone and pray that he has at last found peace and comfort in the loving arms of God. Rest in Peace.