Palo Verde High School
Class Of 1968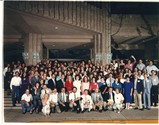 In Memory
Cynthia Ettinger VIEW PROFILE
Deceased Classmate: Cynthia D Ettinger
Date of Birth 12-15-50
Date Deceased 8-18-19
Attended University of Arizona College of Law. Admitted to the State Bar May 1988.
Cyndy devoted her law practice to serving families involved with the Department of Child Safety, representing parents and children with intelligence and compassion. She was a fearsome advocate for her clients, a knowledgeable and formidable opponent, and for thirty years a valued part of the Juvenile Court. Especially during the last year of her life Cyndy's health was in steep decline, yet she was always willing to assist her fellow attorneys in anyway she could.
Cyndy had an avid group of followers on Facebook as she did in real life. She was bitingly funny, not shy about her political beliefs and always willing to pass on the newest pun.
We loved her for her humor, her wit, and her intelligence.
I will miss her dearly.
Submitted by Jacquie Hines Rohr
Click here to see Cynthia's last Profile entry.