Palo Verde High School
Class Of 1968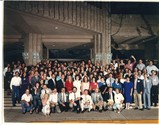 ANNOUNCEMENTS
•
From the movie, "Hamburger Hill."

Major O'Donnell was listed as MIA while piloting a
helicopter on a mission in Cambodia on 24 March 1970. His remains were recovered and interned at
Arlington National Cemetery on 16 August 2001.

A gentle hero who gave his life for an undeserving country.

>>>>>>>>>>>>>>>>>>>>>>>>>>>>>>>>
If you are able,
save them a place
inside of you
and save one backward glance
when you are leaving
for the places they can
no longer go.
Be not ashamed to say
you loved them,
though you may
or may not have always.
Take what they have left
and what they have taught you
with their dying
and keep it with your own.
And in that time
when men decide and feel safe
to call the war insane,
take one moment to embrace
those gentle heroes
you left behind.

Major Michael Davis O'Donnell
1 January 1970
Dak To, Vietnam

•

Palo Verde

50th Birthday

This year is the 50th birthday for Palo Verde High School. Our school is planning lots of activities for alumni. For more information, you may visit the links below:

Palo Verde Magnet High School Facebook Page

or

Palo Verde Magnet High School Website - look for links for alumni

•
Greetings '68 Titans... My band played for the PVHS Class of '70 Dinner Dance last night at Harry Birnbaums' house. I'm sorry to report that the class of '70 was pretty much dead from the ankles up! It was about as much fun as a Catalina Reunion (I mean this as an insult). I've reached the conclusion that the PVHS Class of '68 is indeed remarkable! How did the '68 Class so easily recapture the past, bring it to the present, and party like we were all in the Girls' gym at an after game dance celebrating like we had just beaten Tucson High 60 to 0? A scientific investigation should be conducted to determine what's up with '68! Was there some planet alignment, or something in the water back then?... I can't explain it. The PVHS Class of '68 40 Year Reunion Dance was THE funnest I've ever played for. The Class of '68 30 Year Reunion was a close second!....It also would be fair to the PVHS Class of '69 to say that their 40 Year Reunion Dinner Dance was a distant second in the fun-factor category...But '66, '67, '70 all DOA. Ideas Anyone?!