Palo Verde High School
Class Of 1968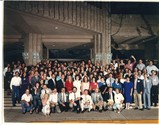 ANNOUNCEMENTS
•

IMPORTANT UPDATE!!

Our search for a Reunion Venue that matches the festivities of our 50th has led us to move the date earlier into September 2018

The new and firm dates are September 28 - 29, 2018.

To all of you have made your plans already, sorry for the changes.

Stay Tuned for more exciting information.

•

HELLO TITANS!

REMEMBER WHEN WE WON THE CLASS SPIRIT AWARD AS JUNIORS?

AND AGAIN AS SENIORS?

WERE WE THE MOST MEMORABLE CLASS IN PV HISTORY?

OH YEAH! WE WERE and WE ARE!

Amazingly, those exploits were almost 50 years ago……

So, it is time for our 50th Class Reunion.

BELIEVE IT!

Plans are getting underway for us to celebrate our friendships, our lives so many years ago, and our lives since that warm summer night when we graduated.

WHAT TO KNOW

A date has been chosen to give us enough time to notify everyone, let everyone make their travel plans, and more than enough time to get EXCITED!

WHEN: September 28-29, 2018

WHERE TO GET INFORMATION: Official Reunion Website

WHAT TO DO:

TELL ALL OF YOUR '68 Titan FRIENDS!!!